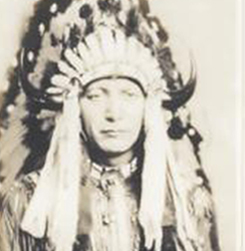 NIPO STRONGHEART NEW BIOGRAPHY
1891 - May 15 -- Nipo Tach Num Strongheart was born in White Swan, Washington to George and Leonora (Williams) Mitchell; grandson of Robert Mitchell, a Canadian factor for Hudson's Bay Company.

1902 -- Strongheart joined, with his father, Buffalo Bill's Wild West Show as a trick and fancy horseback rider. Later, he joined Major Lillie's Pawnee Bill Shows, traveling throughout the world.

1912 -- At 14 he appeared in his first motion picture.

1937 -- The actor's biography appeared in "History of Hollywood"; where he was listed as Hollywood's foremost authority of American History and Ethnology. The history stated that his mother was the daughter of the great Yakima chieftain. Ta Che Num.

Nipo Strongheart travelled as a lecturer on the Chautauqua and Lyceum circuits, speaking on Indian life. Material for his lectures was drawn from his early life on the Yakama Reservation and from his growing collection of books, documents, manuscripts, costumes and artifacts. Film credits included 'Brocken Lance,' 'Ten Who Dared,' 'Westward the Women,' and 'Across the Wide Missouri.' In later years, after he retired from acting, he served as technical advisor to many of the Hollywood studios.

1950, July 4 -- Over the years, the actor returned to the reservation annually to attend the general council meetings and celebrations of the Yakamas. Although there was no written proof of his tribal membership, the tribe granted him honorary membership. A duplicate copy of the membership card he proudly carried and displayed is in the tribal enrollment office and it is dated July 4, 1950.

1966, December 30 -- Nipo Strongheart died in Canoga Park, California, where he lived in a home for retired actors. He is buried at the Satus Point Cemetery on the Yakama Reservation near his foster mother, Kate Williams. His valuable collection of over 10,000 volumes of books and artifacts, valued in 1966 at over $200,000, was left in his will to the Yakama Nation for "proper display and utilization by the people."

1970, April -- The Strongheart collection arrived in Toppenish in two vans full of trunks. Some of the trunks had been in storage over 30 years. Friends recall that Strongheart nearly lost the valuable collection when hard times in the 1930's made in difficult for him to pay storage fees on the collection.

1980, June 6 -- Doors open on the Yakama Nation Museum located on the Cultural Center campus, Toppenish, WA, which made it possible for Nipo Strongheart dreams to be fulfilled.
..............................................................................
Yakama Nation Museum
Find Us